Meet Dr. Patricia Blanton DDS, MS, OHD
A Distinguished History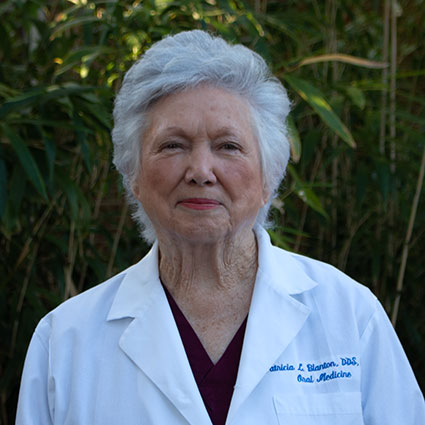 Dr. Patricia Blanton has earned a BA in Chemistry from Hardin Simmons University, an MS and Ph.D. in Anatomy from Baylor University, and a DDS and Certificate in Periodontics from Baylor University College of Dentistry.
She is also a Professor Emeritus, Biomedical Sciences, TAMUS/BCD; Past Interim Dean, James B. Edwards College of Dental Medicine, MUSC; Diplomate in Oral Medicine; practicing periodontist and consultant in head and neck surgical anatomy.
Serving With Distinction
Dr. Blanton has held numerous state and national offices including past President of the American College of Dentists, Vice President of the American Dental Association, and President of the Dallas County Dental Society. She was the first woman elected President of the Texas Dental Association (TDA), and received the Gold Medal of Distinguished Service, the highest honor given by the TDA.
Dr. Blanton was named Distinguished Alumnus of TAMUS/BCD, Distinguished Alumnus of the Department of Periodontics, Distinguished Alumnus of Hardin Simmons University, and received the Dallas County Dental Society Lifetime Achievement Award. In 2012, she was inducted into the TAMUS/BCD Hall of Fame.
Most recently, Dr. Blanton received the "Distinguished Service Award"—the highest award given by the American Dental Association, and the Pierre Fauchard Gold Medal, the highest award granted by the Pierre Fauchard Academy.
Dr. Blanton serves on the Foundation Board of the American College of Dentists and is a member of, ADEA Advisory Committee on Diversity and Inclusion. She lectures nationally and internationally and has authored more than one hundred articles in peer-reviewed journals.
EXPLORE OUR SERVICES

We Offer The Highest Quality Care
With expert skills, years of experience, and a wealth of knowledge, Dr. Blanton ensures her patients receive only the highest level of care. She looks forward to taking care of your needs. Contact James Island Family, Cosmetic & Implant Dentistry to schedule an appointment.


Dr. Patricia Blanton | (843) 795-1111